Mahmur of Palmer Farm
(Mona)
Mona is an AKC Registered Anatolian Shepherd. She was born on December 11, 2004. Mona is a large gray fawn with black mask Anatolian Shepherd with an excellent temperament. Her first litter is planned for mid 2006.
Click Picture to Enlarge




April 17, 2005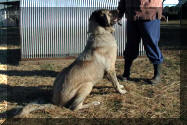 October 15, 2005

She weighs around 100 pounds and growing.
If you are interested in reserving a puppy from her next litter, click here.
For more information about this breed please check out the following web sites.
Anatolian Shepherd Dog Club of America (ASDCA)
Anatolian Shepherd's Dog Worldwide, Inc. (ASDW)